In Memory
Barbara Ann Daum (Yeakey)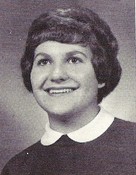 Barbara Ann Daum was born January 9, 1944 in Allentown, Pennsylvania to George and Peggy Daum. As a military family the Daum's moved around for a few years before finally settling in the area now known as Cedar Hills. She developed a love of horses as she, her older sister Sue and younger brother Fred would ride their horses around the fields that have since been developed and grown into homes and Highway 217. Barbara attended Sunset High School from 1959 – 1961. During that time Barbara lettered in Tennis. Following graduation from Sunset, Barbara attended the University of Oregon from which she graduated with a degree in Education in 1965. While at the University of Oregon Barbara met Mike Yeakey from Sherman Oaks, California, they later married and Barbara became Barbara D. Yeakey. Barbara and Mike initially settled in Roseburg, Oregon where Mike taught middle school and Barbara was a substitute teacher and gave birth to two beautiful children. Kristine Marie Yeakey was born in 1967 and Jon Michael Yeakey II followed a few years later in 1970.
In 1976 the family moved to a small farm in Hillsboro, Oregon. There Mike taught middle school in Beaverton at Hyland Park Middle School and Barbara started her own business in Serenity Farms Miniatures. Barbara began raising miniature horses and miniature donkeys and the business quickly flourished. Serenity Farms became a recognized leader in the miniature horse and donkey world and Barbara became extremely successful breeding and selling her stock across the country. Barbara was featured on such local television shows as PM Magazine and AM Northwest with Mary Starrett. Barbara became especially well known to locals as the horse lady who's dogs were larger than her horses (Barbara also raised harlequin Great Danes). People from as far away as Texas and Tennessee would travel to buy foals thrown by her champion stallion "Just Darby". Upon seeing the success and potential of Serenity Farms Miniatures, Barbara expanded the business and obtained her Exotic Animals Breeders License. This allowed her to start importing exotic animals from around the world. Barbara bought and sold Umbrella Cockatoos and Blue Front Amazons from South America, Wallabies (small kangaroos) from Australia and New Zealand, and Kinkachoo's and Coatimundi's from South America. Barbara found buying, raising and breeding animals on her farm one of her greatest joys in life.
Her greatest joy however was her children. Barbara was extremely proud of both her children and she loved them more than anything. She took tremendous pride and joy watching Kristine grow-up and graduate Glencoe High School as Valedictorian with a perfect 4.0 GPA. Kristine went on to Linfield College in McMinnville, Oregon where she double majored in Biology and Chemistry and minored in German. Graduating Linfield with a perfect 4.0 GPA, Kris went on to OSU/WSU joint Vet School program inspired by the love of animals she gained from Barbara on the farm. Jon graduated Glencoe High School with a 3.9 GPA and was part of the 1986 State Championship Football team. Jon went on to Linfield College as well and double majored in Psychology and Business Administration. He played football all 4 years where he earned 1st Team All-American honors. Barbara never missed a high school football game and was a regular every Saturday at Linfield's Maxwell Field to watch her son play football.Barbara is survived by her sister Sue and her husband Jim Daily; her brother Fred Daum, daughter Kristine and her husband Louis, her son Jon and his wife Suzanne, and her two grandchildren Brianna Kristine Yeakey (16) and Brent Michael Yeakey (13).