In Memory
George Russell (Principal)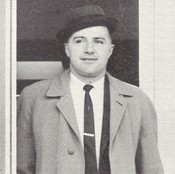 Born Jan. 28, 1924, in Long Island, Kan., the son of Ernest and Irene Russell, he attended Long Island High School before joining the Navy in 1943. George died on Monday, December 5, 2011.
During his Navy service, he helped train a new crew of the USS 712-Gyatt. He was the ship's navigator. He received his Navy discharge in July 1946.
Following the service, he went on to graduate from Willamette University in 1947 with a BA in mathematics. He also earned an MA in education from Willamette in 1948 and an MA in mathematics from San Jose State University in 1951.
Mr. Russell married the love of his life, Barbara, June 11, 1950, when he was a teacher at Sherwood High School. They moved to San Jose while he attended college there, and in 1951, they moved to Beaverton, where he taught math at Beaverton High School. He served as an assistant coach in football and basketball. In the following years, he was also a counselor, dean of boys and vice principal at BHS.
In January 1958, at age 34, he was named the first principal at Sunset High School. In 1962, he took a sabbatical to attend the University of Oregon to work on his Ph.D in education.
He returned to Beaverton in 1964, as curriculum director. In 1969-70, he was the principal of Hudson's Bay High in Vancouver, Wash. After one year, he returned to Beaverton as assistant superintendent for personnel, which he held for two years before being named deputy superintendent for instruction. He held that position until his retirement in January 1985.
A member of Bethel Congregational UCC in Beaverton, he was awarded the Vergie Ries Award for outstanding service to the neighborhood association committees in 1999.
His service to the community also included two years as chairman and 12 years a secretary-treasurer of the Brooktree Homeowners Association, several years of involvement with (including chairmanship of) the South Beaverton Neighborhood Association Committee, Beaverton Citizens for Community Involvement and volunteer and leadership roles with Cub Scouts and Boy Scouts, including In-School Exploring and Junior Achievement.
Survivors, in addition to his wife Barbara, include sons Gary of Eugene and Ron of Beaverton; daughter Linda Timmel of Beaverton; brother Robert of Portland; grandchildren Kristin Hiatt, Alyson Timmel, Amanda Timmel, Brian Russell, Linda Stewart and Matthew Russell; and two great-grandchildren.
Preceding him in death were his parents and brothers Leland and Paul.
Memorial contributions to Bethel Congregational United Church of Christ Missions and Outreach or blood donations to American Red Cross (because he received more than 45 blood infusions in the past year) are suggested.