In Memory
Bonnie Jean Varner (Drama/Speech Teacher) (Young)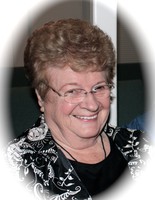 SALEM – Dr. Bonnie Jean Young died peacefully in her home on Feb. 15, 2013 at the age of 81. Bonnie was born in Kentucky to Letha and George Jepson Turner but spent the majority of her life in Oregon. She received her graduate degrees from Brigham Young University, Portland State University and the University of Oregon.
Bonnie was a master teacher, Professor Emeritus from Western Oregon University,
where she served as professor, program director of The Handicapped Learner Program and the Rural Special Education Program, and assistant dean of the OSU/WOU School of education. After retirement Bonnie served as a guest professor at Willamette University. She was recognized as Woman of the Year in 1989 by the YWCA and received a Distinguished Service Award from the State System of Higher Education.
As a grant writer at WOU, Bonnie wrote and directed training grants in special education. She was responsible for $5 million dollars worth of grants, which provided tuition remission to hundreds of teachers. When the Rural Special Education program was awarded Program of the Year in March of 1989 it was estimated that the students receiving these grants served 3,780 students with disabilities a year. In May of 1991 Oregon Consulting Teacher Conference created the Bonnie Young Award for Leader in Educational Consultation. She was Given the Pioneer Club Award for Professional Services by the Oregon Association for Children With Learning Disabilities in 1993. And in 1998 was presented an award in appreciation of dedicated service by the Executive Board of the Oregon Consulting Teachers Association.
Bonnie always loved gardening and served as President of the Master Gardeners for the local chapter. She was heard on the radio station KBZY each month with "What to Do In the Garden." She was also the voice of Oregon Centennial historical readings.
She was very active in her church, Unity of Salem, where she served in a variety of ways including President of the Board for four years. She also served on the Benchmark Committee, the Evolutionary Council and the Habitat Team. She also taught classes in public speaking and directed the Readers Theater Team.
She is survived her cousins Marge Livermore, Terry and Pat Crites, Bob and Shirley Hanson, and Cora Lee McClean and her friend of 38 years, Dr. Bonnie Staebler.
Services were held on Saturday, March 2nd at 1:00 p.m. at Unity of Salem, 1777 Fabry Road, Salem OR 97306. Donations in Bonnie's name can be made to Unity of Salem, P.O. Box 3518, Salem, OR 97302.