In Memory
Keith Acheson (Math Teacher)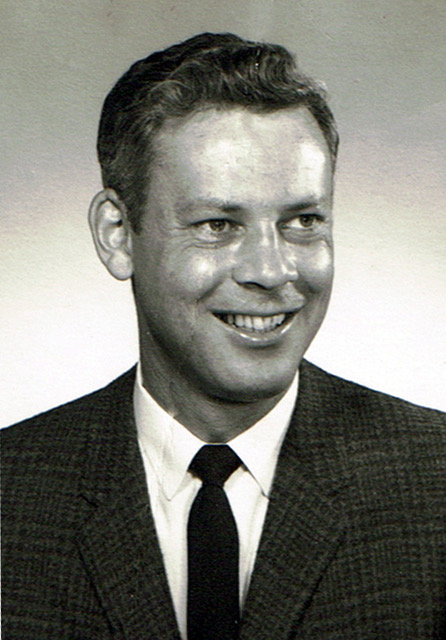 Obituary
Keith A. Acheson (1925-2017)
Keith Alan Acheson, Ed.D., was born March 20, 1925 in Hood River, Oregon. He took pride in his Oregon roots, which extend back to the 1870s when his grandfather Mathew settled on a farm in Shedd near the historic Oakville Presbyterian Church, built some years earlier in 1860. Keith's great uncle Allen served as pastor there. The Acheson clan rests in a small wooded cemetery down the road.
Keith grew up in Portland and attended Grant High School, Oregon State College, and Lewis & Clark College. After serving in the army during WWII, he took a bicycle tour of Europe before returning to Oregon to settle down with his wife of 66 years, Nancy of Montana, whom he married in 1951. Keith began his career as a mathematics teacher, first in North Bend and then later at Beaverton and Sunset High Schools in Portland. After 10 years of marriage, with children Bruce, Brian, and Betsy in tow, Keith and Nancy moved to Palo Alto, California, so that Keith could pursue doctoral studies in the Stanford Graduate School of Education. Son Brent appeared unexpectedly at that time. Together with his professors and fellow students, Keith pioneered the development of microteaching, a major advance in teacher education that was adopted worldwide by colleges of education. He earned his doctorate in 1964.
In 1967 the family moved to Eugene, Oregon, where Keith took a position as professor in the College of Education at the University of Oregon. He held this position until retiring in 1992 with the title of emeritus professor. Keith specialized in "teaching teachers how to teach," preparing new teachers, and helping experienced teachers develop advanced skills. He played a central role in the College's doctoral program, which prepared educational leaders and researchers both in this country and abroad, and he helped the College develop a pioneering doctoral specialty in computers-in- education. Keith published many scholarly articles, an instructional video program for the Association for Supervision and Curriculum Development, and the book Clinical Supervision and Teacher Development, co-written with colleague and friend M.D. Gall.
Originally published in 1980, this book is currently in its sixth edition plus two translations.
During his tenure at the University of Oregon, Keith travelled around the country and abroad, consulting extensively with government agencies and universities and testifying as an expert witness in hearings regarding teacher supervision. Keith took particular joy in a joint venture with Nancy to present summer workshops in the San Juan Islands, their yearly family vacation spot since the 1970s. Keith also was active at St. Mary's Episcopal Church in Eugene, where he spoke as a lay reader at services.
In retirement, Keith enjoyed a second childhood putting on puppet shows, making videos, and playing imagination games with his grandchildren, Timothy and Benjamin. He always loved to use humor and word play to lighten conversations, as when he often quipped, "I was born in a depression – the Columbia Gorge – lived through the Depression, and had clinical depression." Keith still retained his good nature and sense of humor despite dementia in his last years. He died peacefully in Eugene, Oregon on April 21, 2017 at age 92. He is preceded in death by his parents I. Ray and Mary, and son Brian. He is survived by his wife Nancy, sons Bruce and Brent, daughter Betsy, and two grandchildren.
**For those of you that didn't know, he was Laurie Hall's uncle.